2016 – Year of Excuses or Results?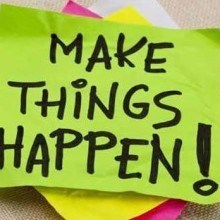 New Year, New Ideas . . . New Frustrations?

I've never heard of a business that failed because of a lack of ideas, in fact it is mostly the opposite, business owners have lots of great ideas but fail to implement them. One of the big frustrations I see with business owners is their inability to put their great ideas into action. Talk to them about how their business is going and they are so so, but ask them what plans they have for the future and you see their eyes brighten and their energy increases as they begin to talk about the great ideas they have. We all need to have an eye on the future and pursue great ideas because they give us hope and drive us forward. The problem comes when people have the ideas but don't manage to implement them, that's when businesses fail. So why it is so hard for entrepreneurs to implement their great ideas?
Focus
As the leader in the business you need to focus your time on what really matters. Too many entrepreneurs find themselves busy dealing with urgent and important matters that absorb most of their time, energy and focus. These activities keep the business ticking over but they also distract them from being able to work on and implement the great ideas they have which will actually move the business forward. By narrowing your focus and concentrating on less but more important ideas, you'll end up accomplishing more.
Leverage
Work on the actions that leverage you toward your goal not the goal itself. Most people focus on the primary goal eg 20% more sales per quarter and they keep their eye on the numbers which creates stress and anxiety. The better way is to focus and work on the activities that lead to more sales eg phonecalls, door knocks, flyers delivered etc. These actions are predictive – e.g. if I make 100 phone calls I'll make 20 appointments and get 4 sales. You can influence these actions (phonecalls) so it is better to invest energy on these secondary goals as they will enable you to achieve your primary goal. The trick is identifying and tweaking these secondary goals.
Engagement
When you spend a lot of your time, energy and focus on the day to day chores of running your business it wears you down. There are never enough hours in the day, your To Do list keeps piling up and after awhile you are tired and worn out. As the leader you need to be driving your business with a passion that inspires engagement and commitment from your staff, suppliers, clients, and yourself.
Accountability
You can have the best plans and the most well laid out strategies but if you don't have some form of accountability structure then it is unlikely you'll have the follow through to execute your great plans. Studies show when teams have strong accountability structures engagement and performance increases. The same for you the owner, when you are accountable your engagement in your business and your leadership role increases, your performance increases, you get more done and your business moves forward. The problem is most small business owners are not accountable to anyone.
Accountability is the most crucial because it keeps you on track and enables focus for the other three. This is especially true for small business owners who, unlike larger organisations, rarely have systems of accountability in place. A large organisation has a Board and shareholders to keep the CEO accountable whereas the small business owner only has herself or himself, which explains so many small businesses fail to grow and many just fail.
What Accountability Options Are There?
There are a number of options
Business coaching
Mentoring
Structured mastermind groups
Meetings with colleagues
Structured accountability groups.
At the Real Biz we see a lot of micro business owners (0-4 employees) who don't  need more ideas, more strategies or more plans, they just need to get the ideas they already have implemented. They don't really need a coach or mastermind group, they just need some accountability structures to keep them on track so they can get things done. That's why we have created some low cost, action oriented accountability groups to keep business owners focused and on track so they can execute, achieve and grow.
Small Business owners (5+ employees) have different challenges – they have loans, rents, leases, payroll and other financial obligations which force a degree of accountability. For them the focus needs to be on systems as well as accountability because efficiency and scalability is key for these businesses. We have groups to help you grow in these areas as well.
Excuses or Results
So the message is clear, if you want to achieve in your business this year you need to put yourself in a place of accountability otherwise you'll be at the start of 2017 looking back making excuses for why things never happened and wondering, "if only I had done this and that".  You need to be accountable,  you can make excuses like, "I don't have time" or "I can't afford it"  but at the end of the day you will have excuses or results, you can't have both.
If you are interested in finding out more about the accountability groups we offer drop me a line at Real Biz Accountability Groups