The Value of Networking According to Richard Branson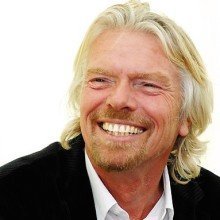 Wondering if you should be Networking this Year?
Check out why Richard Branson thinks why succeeding in business is all about making connections and why he wants all his staff skilled in the ways of networking . . .
Richard Branson is a big supporter of networking. I recently re-read a blog article he wrote where made a number of points about the benefit of networking and thought it was worth sharing his key points  (from entrepreneur.com blog)
Networking Enables you to Bring in Skills you don't have and might not be able to afford to purchase
"For an entrepreneur, the ability to forge connections is a great asset. When you're conducting business in a field where you don't have specialist expertise, it's often the only way to get a job done right. When our team at Virgin wanted to go to space, I looked for the best engineer in the world to help us build a spaceship. Once we'd connected with Burt Rutan, creator of the revolutionary SpaceShipOne, we were able to get to work on creating Virgin Galactic,"entrepreneur.com blog.
small business networking regularly exposes you to people who have skills, experience and ideas that will benefit you. Many small businesses partner with the people they need to fill the gaps in their organisation, this is how Branson has managed to build so many different business groups.
Personal Contact is  Key
Business is all about personal contact. It is difficult to build trust based relationships with people you have never met, especially when you want to engage or partner with them in deals of significance.
"Succeeding in business is all about making connections. While we at the Virgin Group have never hired anybody whose job description was limited to making internal and external contacts, it is implicit that almost everyone on staff has these skills. This has helped Virgin to expand into so many different industries, from music to mobile phone services: As we build connections in other areas, we have been able to grow our expertise and multiply our reach."
"Business is all about personal contact. No matter how heavy your workload is… everyone can and should be a networker."
This rich networking ability has been a constant feature in the history of Virgin, with the group's oldest and youngest businesses all benefiting from a swift ability for employees to forge strong working relationships.
focus on relationships not sales. As you network the relationships you build will generate opportunities you never considered or thought possible.
You Need to make time to Network
"Business is all about personal contact. No matter how heavy your workload is, do not allow yourself to work in your cubicle or office all day, every day – for your own well-being and the health of your business, you need to get out and about, meeting people and developing relationships. If you discuss a work matter with an employee or a potential client over coffee rather than simply sending over an email, you're more likely to build rapport, which will be useful if you ever need to tackle any problems together. Good managers give their teams the freedom to set their own schedules, realizing that the same is true of employees' relationships with their co-workers and the company's clients,"
Get out and press the flesh – emails and texting have their place but there is no substitute for sitting down an having a coffee with someone. You'll very quickly work out if you are on the same page in terms of business and values and if it is worth investing more time to develop a relationship.
Richard Branson is unusual in that he has built an empire of multiple businesses – music, airlines, finance, gyms etc. This is because he because he is an avid networker and has been able to connect people and leverage their desires and goals for all their benefit.
So if you are tossing up wether you should be networking this year or not, ask yourself, "What would Richard Branson do? "
Check out our networking events at www.therealbiz.com.au/events